return to Home Page
or move on to Goddess Amphictyonis, next chronologically,
or use Her Cyclopedia Index

Amaterasu-Omikami, Great-Heavenly-Shining-One.
*M*TAR*SW-OMEK*ME
Alternate meaning: Great-Heavenly-Shining-Deity.
[to Whom the thirteenth day of January, day 012, is dedicated]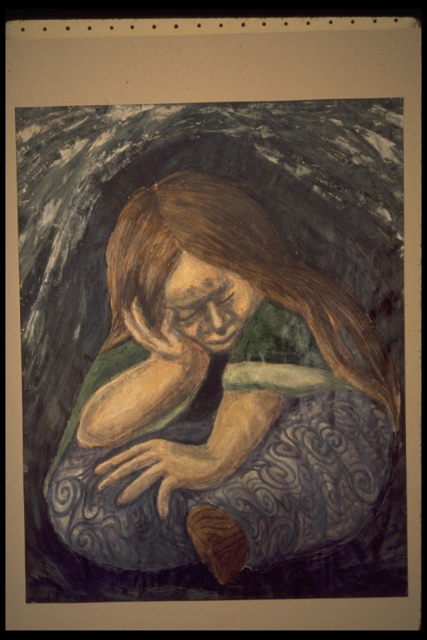 Geography/Culture: Japanese: Shinto. Her chief shrine at Ise houses Her sacred mirror.
Description: Goddess of the sun as a spiritual deity; Commander of the sky, the Plain of Heaven; Ruler of all Deities; Bejeweled Ancestress of humanity and especially of the Japanese imperial family; Protectress of Her people and their ruling family; Representative of Japanese cultural unity; Divine Weaver of the robes of the Deities; She Who interacts with earth to bring forth life; Source of all warmth; Heavenly Body; Bringer of harvest; She Whose emblem is the rising sun.
Sometimes She comes out in arms. Her priestesses continue to weave the robes of the Deities.
Invocations, Pleas, Hymns and Other Homage to HER: Amaterasu- Omikami.
To Whom Sacred: sakaki-tree (cleyera japonica); cock (because they herald the sun); raven (this may confused with the crow); crow (very anciently a crow with several feet was Her messenger); flayed horse (which, tossed into Her weaving room by Her brother, caused Her to withdraw from the world); octagonal mirror, yata kayami (equals purity, it is Her Shintai, ie, the object into which Her spirit enters in order to be present at ceremonies and to listen to prayers addressed to Her); divine sword (equals courage); cave (to which She withdrew from the world at the flayed horse incident, and to which She retires at the beginning of winter after the festival of first fruits); [loom]; salutation in the morning with the clapping of hands; "the thread with the five hundred jewels" (probably a reference to Her jeweled necklace which equals benevolence); Akaki kokoro, Bright-heart (the quality of a heart shining as brightly as the sun.
Male Associates: brother/Consort Susa-no-wo, ----, god of the wind. By chewing his sword and spitting it out in a fine mist She created three Goddesses. By chewing and spitting out Her "thread of jewels" he created five gods. Son Ama-no-Oshiho-mimi, ----.
Titles/Variants, etc:
Variant

Ama-Terasu

.
Variant

Amaterasu-Oho-Hiru-Me

.
Variant

Amaterasu-Ohomi-Kami

.
Daughter of Izanami, She-Who-Invites.
Amaterasu-Omikami is also called

Oho-Hiru-Me-No-Muchi

.
An aspect of Her, also called Her sister, is Waka-Hiru-Me, Young-Sun-Woman, below.
Source: Campbell MG/OM 477-8; Carlyon GG 97-9, 108, 112; Couchoud AMDDEM 390-4, 399, 400.
---
Waka-Hiru-Me

, Young-Sun-Woman.
W*K*-HERW-MA
Geography/Culture: Japan. Linguistic Note: Japanese waka, young, hiru, sun and me, woman.
Description: Goddess of the dawn, the rising and the morning sun.

Titles/Variants, etc:
Aspect, or some say Sister of, Amaterasu-Omikami, Great-Heavenly-Shining-One, above.
---
worked on: December 1995; August 1991; July 1990.
Return to the top of this document.