return

to Home Page
or move on to Goddess Nantosvelta, next chronologically,
or use Her Cyclopedia Index


Nut, `Night-Sky'.
N1T
[to Whom the third day of March, day 062, is dedicated]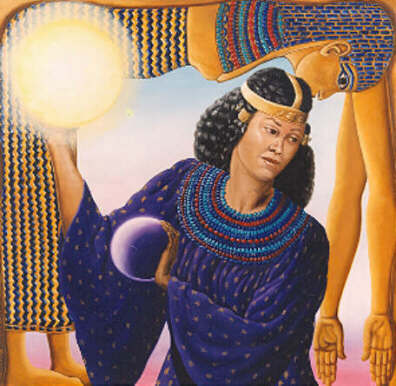 Geography/Culture: Egyptian.
Description: Star-spangled Goddess of sky; Mother of the sun, who is reborn from Her womb everyday; Friend and Protectress of the dead; Provider of meat and drink to the deceased. And see also Goddess Anthology - Nut.
To Whom are sacred: sycamore, leaves and fruit; cow (a form She sometimes takes); turquoise colour; rounded-vase (perhaps containing water - ideogram of Her name); stars; disk and horns; ankh (symbol of life).
Male associates: sons, Horus, Osiris and Set by consort/brother: Geb, earth-god. In one myth, Her consort is: Ra (though She is also called his Daughter) and Geb, Her lover.
Titles, Variants, etc.
Hat-Hor also bears Horus the sun each day.
Mother of, also called Sister of Isis, qv.
Aspect of Herself: Naut, below.
Mother/Sister of, Nebthet, qv.
Neith, is sometimes called Mother of Isis, Osiris and Horus.
Rhea, Earth, (qv Pandora), as Goddess of the sky, is identified with Nut by the Greeks.
Daughter of Tefnut, qv.
Source: Monaghan BGH 225; Mercacante WWEM 110.
---
Naut, `The-Night-Sky'.
N9T
Geography/Culture: Egyptian.
Linguistic note: is it possible the English word night is cognate?
Description: She Who refreshes the Divinities beneath Her shadow.
Titles, Variants, etc.
---
worked on: July 1990; February, August 1991; March 1992; June 1995.
Return to the top of this document.