return to Home Page
or move on to Goddess Tara, next chronologically,
or use Her Cyclopedia Index

Tamar, Date-Palm.
T*M*
[to Whom the twenty-second day of July, day 203, is dedicated]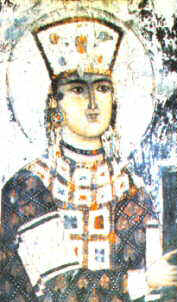 Geography/Culture: Syria: Early Hebraic.
Linguistic Note: apparently from Arabic tamr, 'date palm'. The botanical name for the date palm is phoenix dactylifera. The Greek word phi-omicron-iota-nu-iota-xi, (phoinix) means 'palm tree'. In Egypt, the word bennu, for a species of stork (sacred at Heliopolis and connected with sun-worship) also meant 'palm tree'. English palm is derived from the Latin palma, meaning 'palm of the hand', since the palm leaf was likened to the hand with fingers extended; but Latin palma itself, also meant part of the trunk of a tree from which branches spring.
The god name Tammuz itself appears to be etymologically related to Tamar. The ending zi comes from the root zig, 'to rise up'.
Description: Goddess of earth, prophesy, the calendar and nourishment; Bestower of sovereignty; Savior in times of drought; Tree of Life; Tree of Birth; Great Provider -- Her fruits, fresh or dried, provide food; incisions in Her crown leak sweet juices which boiled yield gur (a thick brown syrup) and jaggery (a type of sugar), and when fermented yield arrack (wine) and vinegar; from Her trunk comes timber, from Her leaves thatch, baskets from Her leaflets, fuel from Her leaf-bases and fruit stalks, rope from Her fibers; roasted, Her pits are a substitute for coffee, while soaked in water or ground into meal, Her pits feed camels -- indeed She is a great provider.
Perhaps She is more properly Shehe since Her flowers are of separate sexes borne by different trees. The date palm requires human assistance in pollination if a substantial crop is to be harvested.
To Whom Sacred: salt; the sea: dates (symbol of fertility and fecundity); palm leaves (adopted by Christians as symbol of Christ's victory, extended to success, joy or triumph, they were also used in Jewish festivals); the date palm, especially when bearing fruit (it is thought possible that the Sumerian huluppu-tree may have been a date palm); [tamarisk (and if so, the sweet manna it provides); tamarind (the name means 'palm tree from India')]; the phoenix (or perhaps the Sumerian Anzu bird), born and reborn in Her branches; the color purple.
Male Associates: consort, perhaps originally Amaushumgalanna, The-One-Great-Source-of-the-Date-Clusters, (a title of Dummuzi, ----), personified in the enormous bud that the date palm sprouts each year -- the source of the leaves, flowers, and fruit. Perhaps later, Baal-Tamar, God-of-the-Date-Palm, a title of Tammuz, The-Son-Who-Rises.

Source: Britannica '47v7 68; idid v17 772, image: date palm (phoenix dactylifera) 154; ibid v21 772, 776; Cooper IETS 50, 168; Graves WG 190; Guirand GM 40-41; Wolkstein IQHE 177-8, image: ii; Monaghan BGH 281; Neumann GM 241, image: 'The date palm Goddess'. Egypt, XVIII dynasty, pl. 242.
---
worked on: June, July 1990; July 1991; May, June 1995.
Return to the top of this document.